I am a 9 to 5 girl so
I can't tell you how much I value my weekends and this last one was the perfect mix of weather, outings, errands, food and WINS!
Even though I was working on Friday, I feel like my weekend of fun started on Thursday night with a quiet dinner in Bothwell. I had a lovely catch-up with my chum Sam at The Cricklewood where we had some lovely food and a good old natter. We were off to a flying start!
Friday went in with a blur and as soon as I knew it I was driving home from work to get changed into something more fancy to meet my mum and 'auntie' for ANOTHER delicious feast in the form of La Parmigiana. I just so happened to share the Chateaubriand which was to die for!
On Saturday Ian was off to a Stag Do paintballing so I had planned a day of running errands and baking! The sun was shining, I had the roof down and I was whizzing about Paisley like a LAD. Stopped by Matalan to check out their £5 dress event and I walked away with these beauties!
I am in LOVE with the print on the red one – its like a paisley pattern – and I'm wearing the polka dot one at work as we speak! Both of these dressers for a tenner!
I stocked up on some much-needed baking supplies and headed home to start the marathon! I had repeats of Criminal Minds on in the background and I spent the whole afternoon in the kitchen making these lush treats.
Left to right – Skinny Honey Lemon Squares, Vanilla Cupcakes with Buttercream Icing and Skinny Chocolate and Raspberry Cheesecake. The 'Skinny' recipes are all from the Skinnytaste website and the cupcakes were from my own recipe. I have to say that the cheesecake is "to die for" (that's a direct quote from Ian's Mum). Go and make it right now! It's only 150 calories per slice!
Sunday was a super-dooper sunny day so we decided to take a jaunt to Busby for a nice lunch at the White Cart Restaurant. Here is a picture of us looking pretty pleased with ourselves.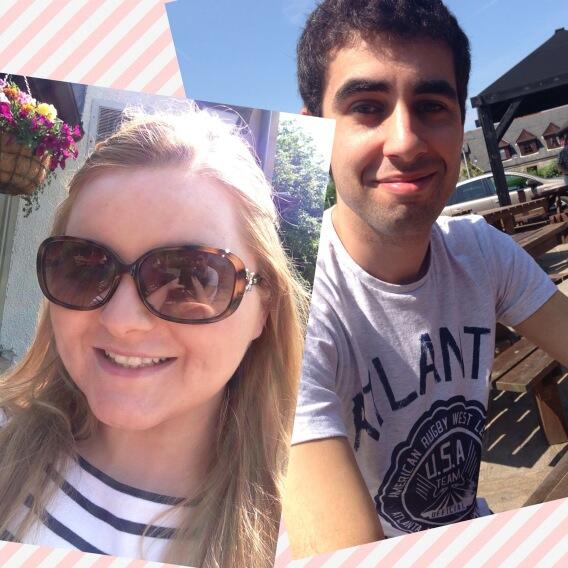 After lunch we sat in Ian's parent's garden and listened to the tennis. I obviously stayed in the shade but it was lovely to be outside! On our way home we dove into Morrisons to pick up our weekly shop only for me to get a phone call saying that Andy Murray had won Wimbledon! I can't believe I missed it but at least I will always remember where I was when he won – slogging around the meat section of Anchor Mill Morrisons.
When we finally got home we vegged with some sweet treats in front of the telly watching Chitty Chitty Bang Bang. Absolute Bliss!
Did you have a lovely, sunny weekend where you are?